Architecture route Amsterdam
This architecture route takes you to the 23 structural engineer highlights of Amsterdam. The route guides you towards new and modern architecture of steel, concrete, aluminium and glass. The IJ which is surrounded with properties with the best views over the river, the weirdest, unique hotels and the most extraordinary parks. But the city also has a lot of old beautiful architecture that you can admire from the water!
Don't have a boat yet? We recommend our BBQ or Happy hour boat for this special route. You will be enjoying a complete BBQ with your own private chef and boat, while cruising the best architecture spots in the city. If you only fancy a drink take the happy hour boat, here you will enjoy unlimited beers, wine and soda. Or you prefer another boat trip? No worries, just take a look at our packages and deals or rent a boat and take your own drinks and snacks. For smaller groups we recommend our luxury canal cruises. Now lets start on the route!
You want to know more Amsterdam? Read our blog about what to do in the city! Like the canals and cruising in Amsterdam.
The architecture of the beautiful views
First stop: The IJplein of Rem Koolhaas. The citizens of this square (plein) have a special view over the water, because Koolhaas made the houses crooked towards the IJ and made broad green stripes. One of the recognition points is the typical 80's white pink stucco.
The multifunctional A'DAM tower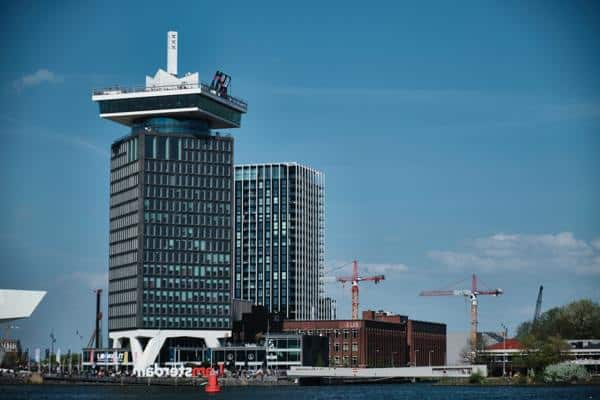 Our next stop is the by Arthur Staal designed A'DAM tower. Because of the angled placing of the crown on top, has the tower of 100 meters a daring look. And that is just what he wanted for this multifunctional tower.
The A'DAM is used as an office space, hotel, cafe, restaurant and at 70 meters a observation tower.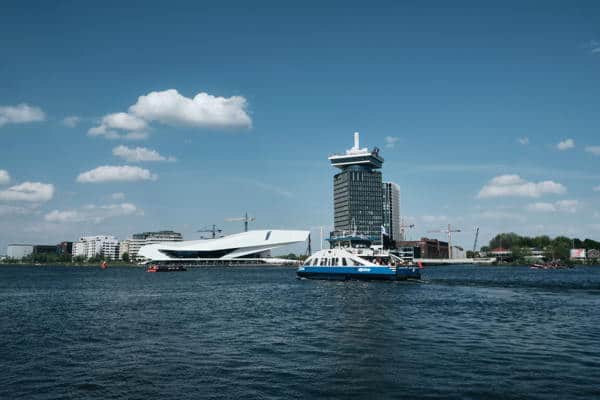 We arrive at a building that immediately catches your eye: The EYE filmmuseum. The Viennese architecture couple Delugan-Meissl used the film and architecture as inspiration for this building. Do you see the aspects of shape, light and movement? More than a thousand ton of bend steel gives this building a futuristic atmosphere.
The Draeck and the IJ
this former ship's hall from 1953, was the working space for the manufacture of the Groene Draeck, the yacht of Beatrix (that is the reason for the name of the building). Now it is used by jong companies that enjoy the view over the IJ through the big beautiful windows
From contaminate to rebuilding
The winners of the governments competition was handed this terrain for 10 years: The Ceuvel. Houseboats plus foundation was placed on this contaminated terrain, which transformed in to a green environment. Sustainability is high on the agenda in the Ceuvel, you can see this by looking at the bodem filtering plants, there own made electricity and a innovative progressing of their waste.
Frome crane to a luxurious hotel
Amsterdam is a very innovative city and knows just how to handle with discarded objects. Kraan is also one of these projects, it is a national monument of 50 meter high, transformed by Sponge architects into a sensational hotel with only 3 rooms. You want to spend the night? It will cost you around €600,- per night.
Hotel made of glass
The brooklyn hotel is also on a former wharf. The facade system is 100% made of aluminium and the gigantic windows on a steel construction are mounted. It is truly a unique and beautiful building.
Unique architecture
Designer Trude Hooykaas has saved the dock from the demolition, while riding her bike. Afterwards she looked for a developer how could make this building into something unique. This construction is placed so it is like the building is floating over the old dock.
From tv station to a lookout point
Live of this platform started on the north sea, from where in 1964 TV Noordzee was send. Now it is a restaurant, working spot and a public lookout point.
The structure was moved 40 years later to the IJ, where it was rebuild and a extra floor was added.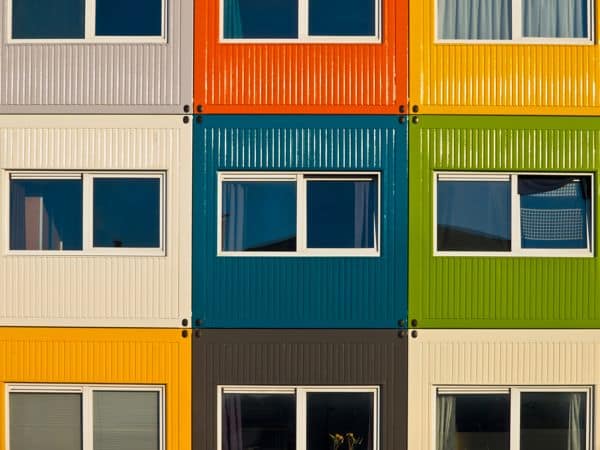 The living spaces are build in 2 or 3 layers, connected by a hallway. They will eventually make space for the residential area called Houthavens.
A 9-story cake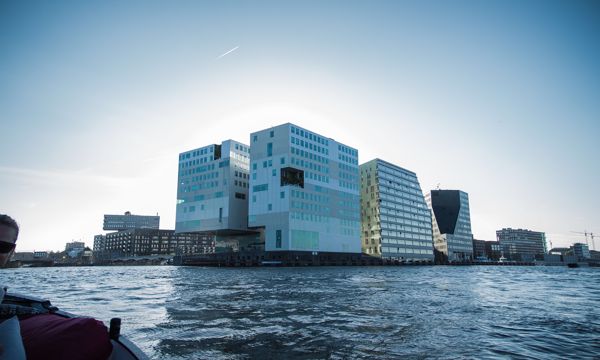 The IJ-doch is the newest made 'schiereiland' and contains mostly highly modern architecture. Like the 9 floor cake shaped building. A residential of around 186 m2, divided over 9 floors. One of these houses is sold for €885.000.
Controversial architecture
The architecture centre of Amsterdam can't stay behind with controversial architecture. By varying the used materials of glass and aluminium gives it a opposite look. This building was designed by René Zuuk.
From industrial to intimate area
Funenpark is a unique residential area with 16 houses and each one has a different design. Frits and Dongen gave this former industrial terrain an intimate atmosphere, which you can experience in the inner city.
A floating garden
Artist Robert-Jasper Grootveld has made a floating garden, with styrofoam. By wrapping the styrofoam with a synthetic cloak and putting this in a net, made it possible to put dirt on. And that is how they made a floating garden.
A tree inside a house
This street has 60 kavels with on number 120 a very unique one. Here made Koen van Velsen a try in a house, for mountain climber Bart Vos. This street was created when people had complete freedom of designing a house. How would you design your home?
A snake in Amsterdam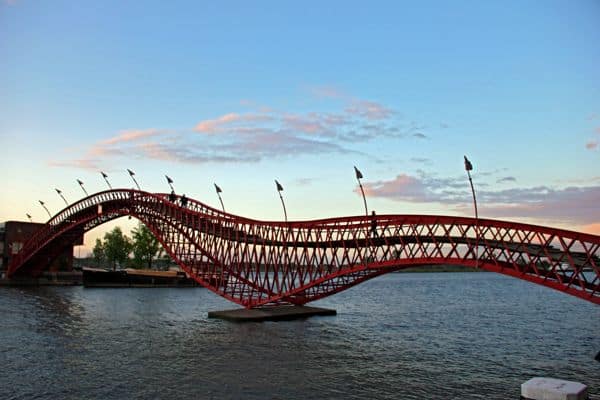 The python bridge is a 90 meter long architectural masterpiece, designed by Adriaan Geuze of architecture firm West 8. When you approach the bridge it seems like there is a snake slytherin over the bridge.
Shapes of awkwardness
This building only functions as a visual landmark of the city. With its asymmetrical and uncomfortable forms, UNStudio refers to the function of the building in which people do not live or work, but only a building in itself. In 1997 the building was delivered with aluminum, steel beams and concrete.
Tetris of architecs
The goal of Borneo-Sporenburg: to create as many houses as possible on one hectare without creating a desolate neighborhood. The architects at West 8 architectural firm have opted for low-rise buildings, a cheerful change of colors and each house has a different facade And how the architects were able to combine 110 homes per hectare? Just slide them together like Tetris.
The roman area on water
The KNSM island was redeveloped into a residential area in the 1990s. Architects Jo Coenen, Bruno Albert, Hans Kohlhoff and Christian Rapp have each left their mark on their design. Classisism is a recurring theme, as can be seen from the circular map, which is reminiscent of a Roman arena.
Variety in the outer city
The task of Sjoer Soeters: designing 1,300 houses on Java Island with the center of Amsterdam as the starting point. Different materials, shapes and heights create an inner city impression. A canal belt was formed by dividing the island into five, with canal houses 2.0.
Relief on the bridge
Our last stop: the Jan Schaeferbrug from VenhoevenCS, 285 meters long. The bridge has a certain relief: as a pedestrian, your road starts lower on the quay than when you are a cyclist But all roads come together in the middle, where the bridge is opened with a hoist once every five years, for the passing Tall Ships of Sail.
We hope we have been able to inspire you. Maybe to turn that old discard into a memento, or to create an entirely new one. In any case, we have shown you a lot of the groundbreaking and creative modern architecture of Amsterdam that makes the city young and alive in addition to all its beautiful old and dusty architecture.
So far our overview of the best sailing routes in Amsterdam. If you have a tip about other fun cruising routes in Amsterdam, we would love to hear from you!