Rent a saloon boat in Amsterdam
Renting a saloon boat in Amsterdam is super simple at Bootuitjes. Cruise through the beautiful Amsterdam canals on one of our beautiful boats. Best of all? With us, no one has to stay sober, because you rent the boats with an experienced skipper. This way you, your friends and colleagues can fully enjoy snacks, drinks and of course beautiful Amsterdam.
Rent a boat with the best packages
We have the most fun packages for you. Below you will find an overview of the most popular outings, click on the outing for more information, photos and a price indication. Do you have special wishes? We are happy to help you with a tailor-made boat trip.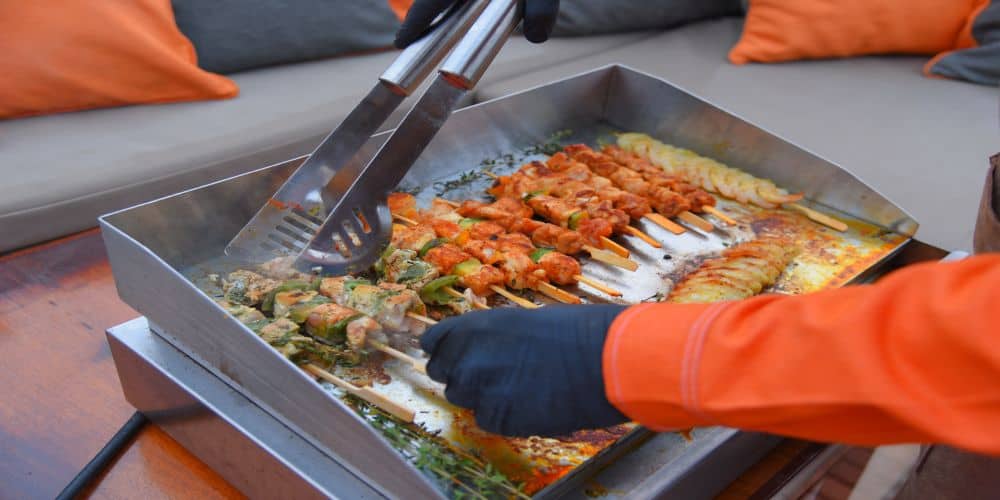 BBQ dish (also vegetarian!)
Open bar and private boat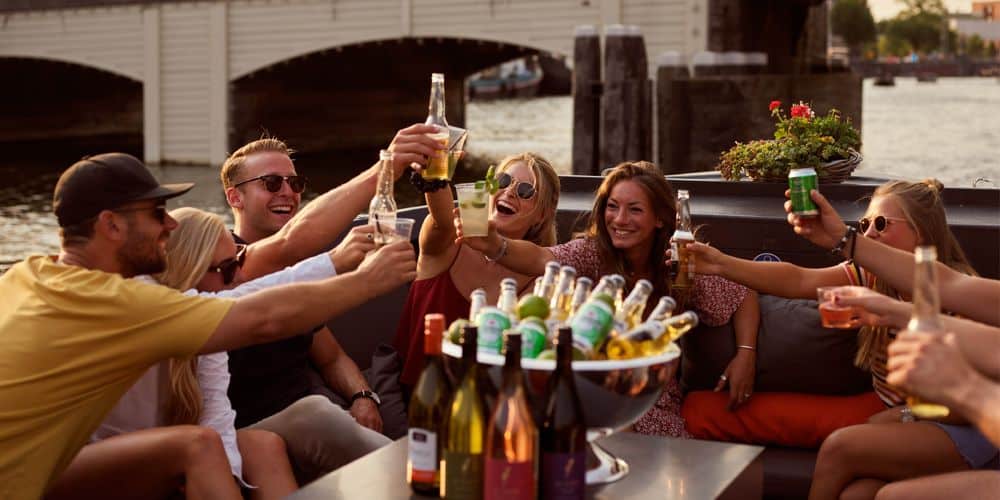 Private boat with skipper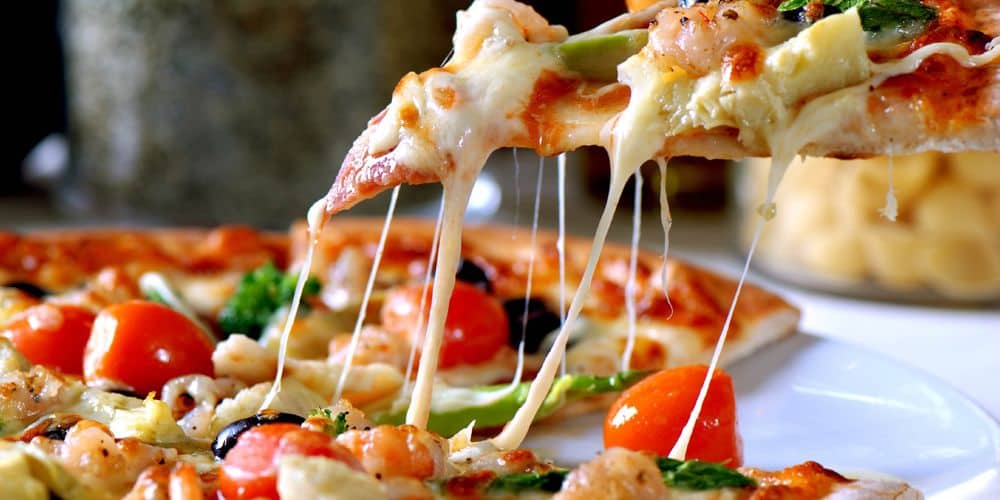 Private boat with skipper
Unlimited beer, wine & soft drinks.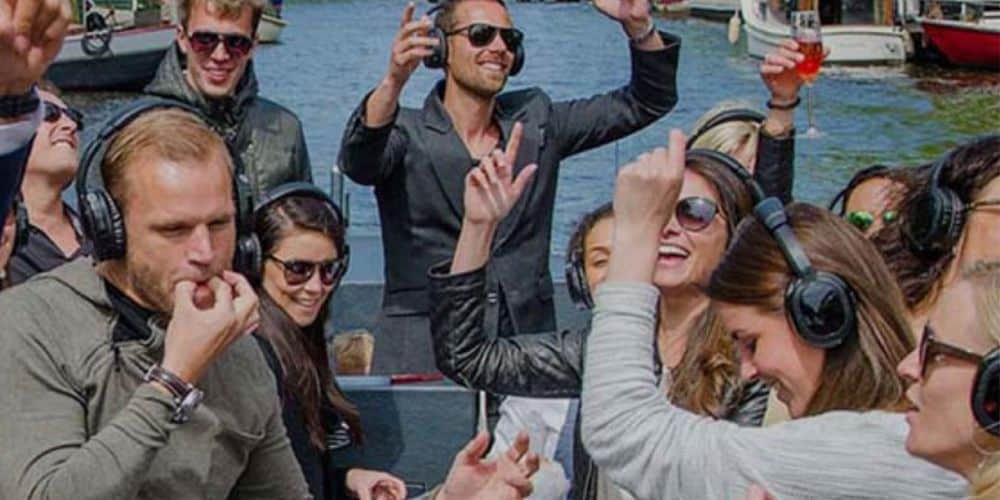 Silent Disco Boat Amsterdam
Unlimited wine, beer and soft drinks
Private boat with skipper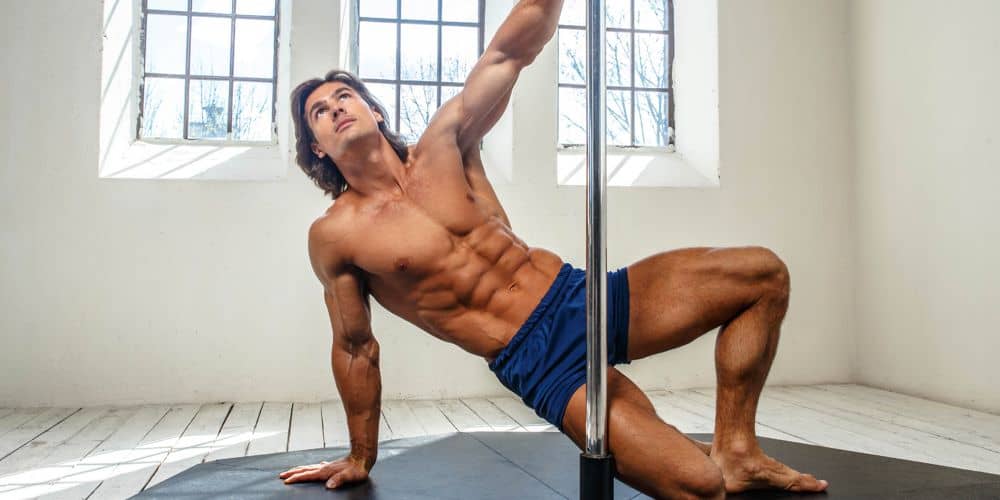 Magic Mike Boat Amsterdam
Private boat with skipper
Unlimited beer, wine & soft drinks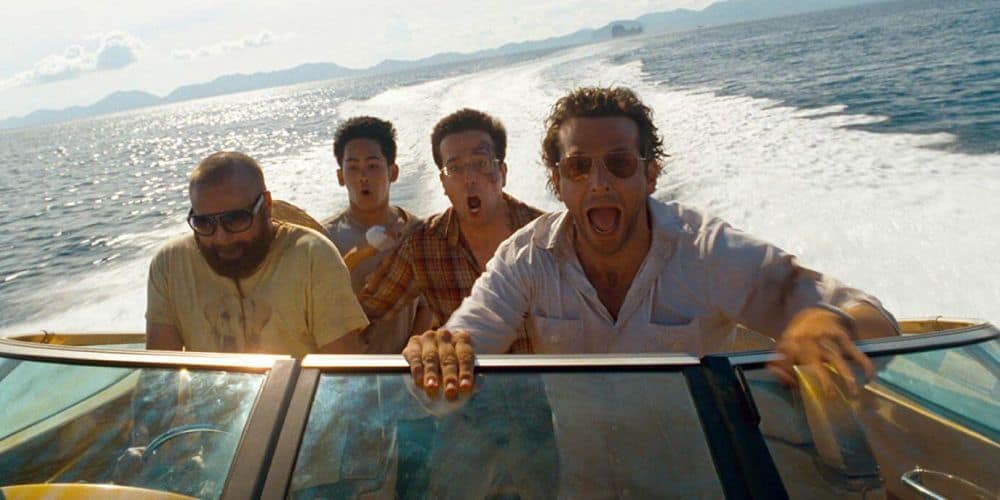 Bloody hot striptease act
Private boat with skipper
Unlimited beer, wine and soft drinks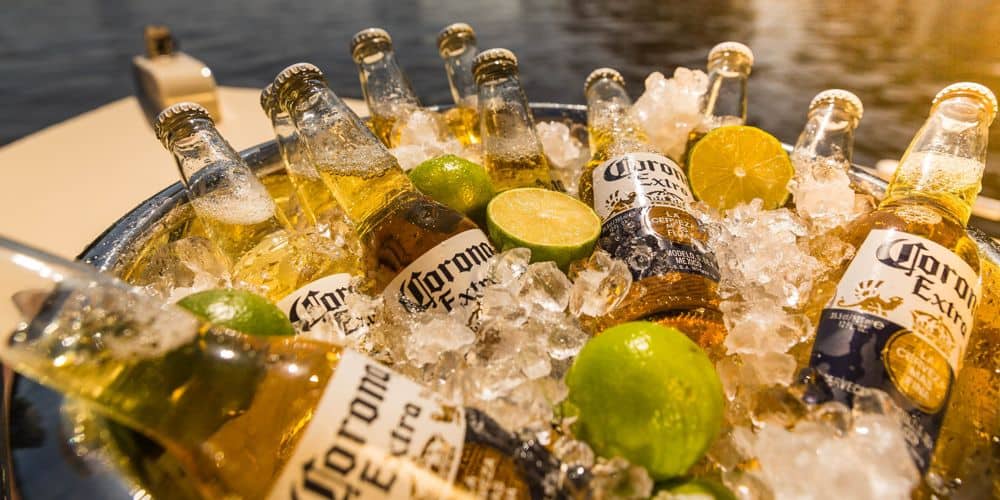 Unlimited beer, wine & soft drinks
Private boat with skipper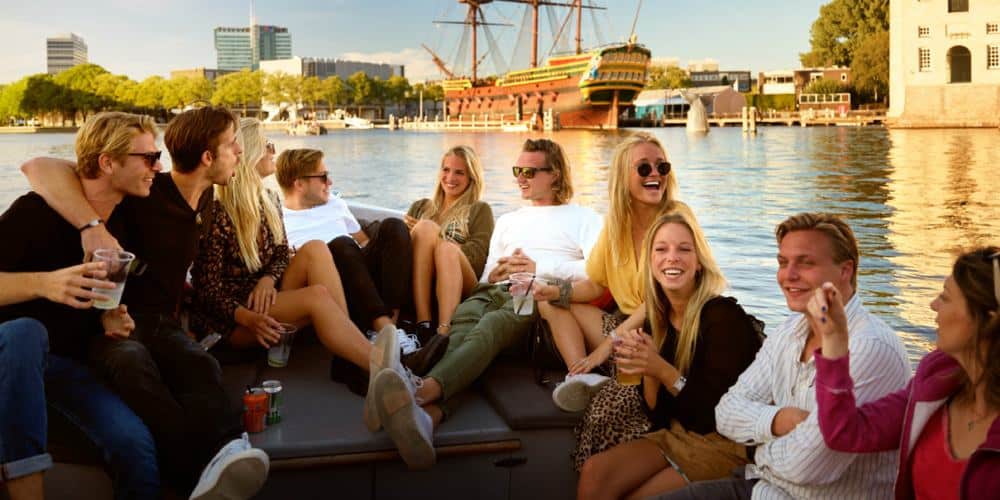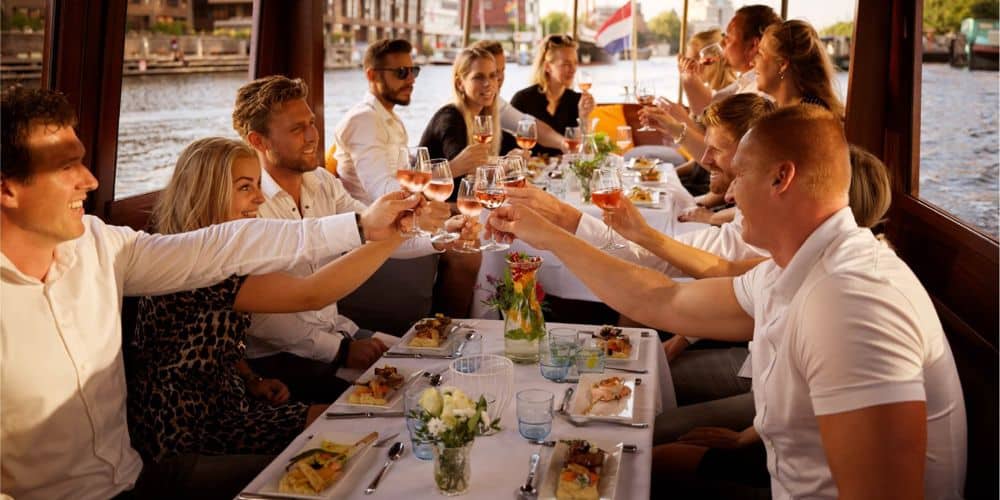 Lunch/brunch boat Amsterdam
Open bar and private boat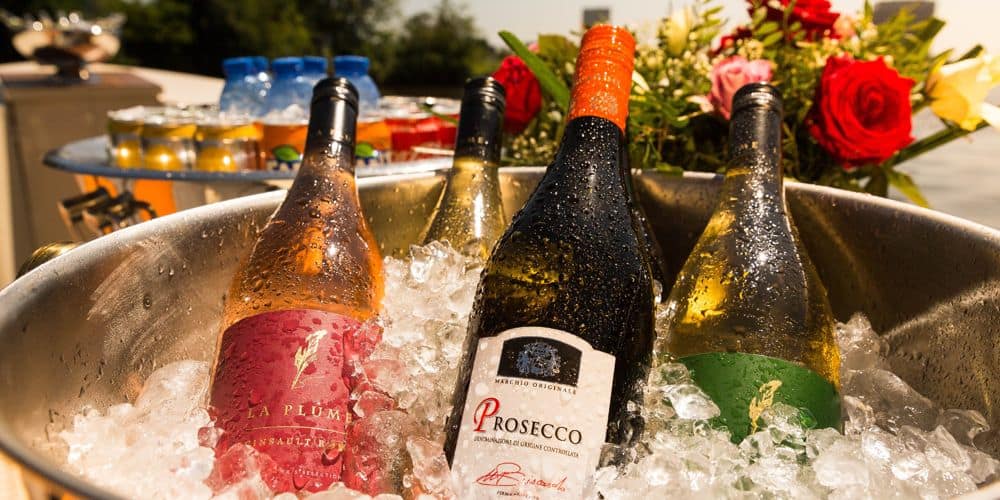 Prosecco cruise Amsterdam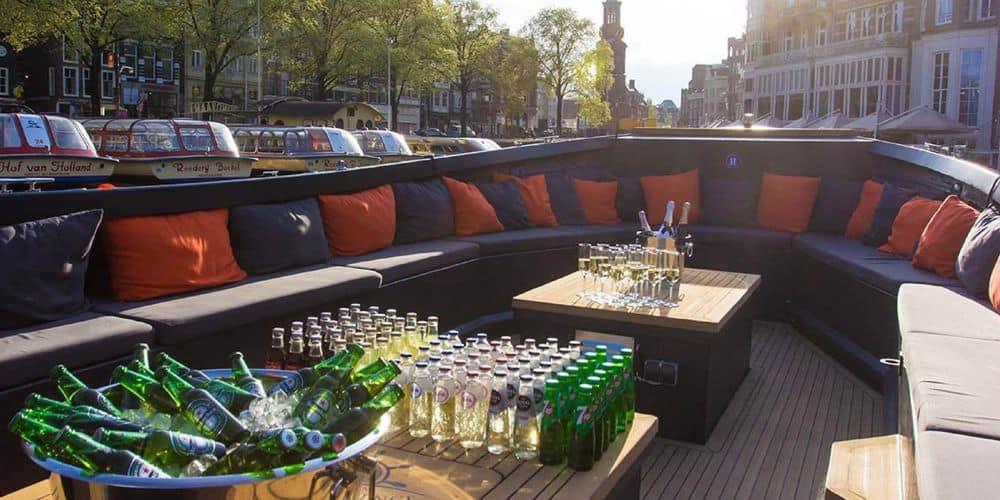 Unique drink/party location
Unlimited beer, wine & soft drinks
Private boat with skipper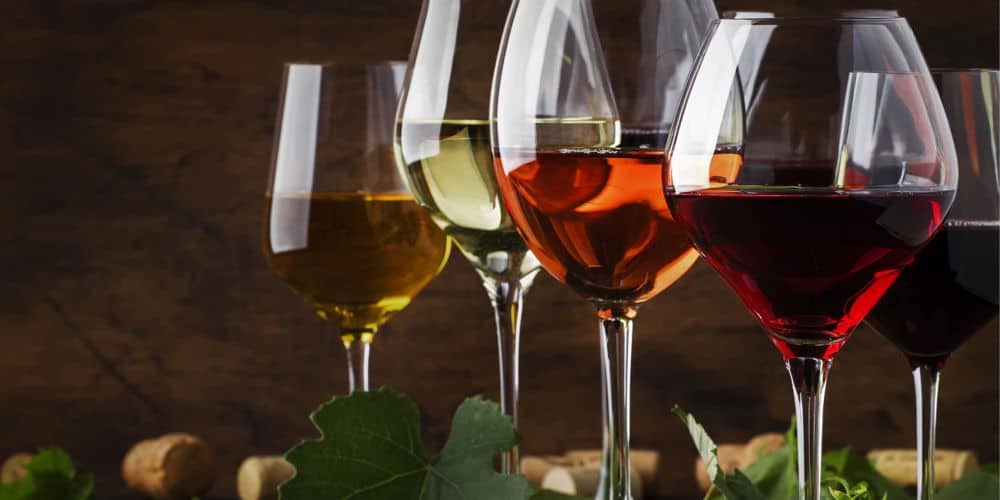 Wine tasting cruise Amsterdam
private boat with skipper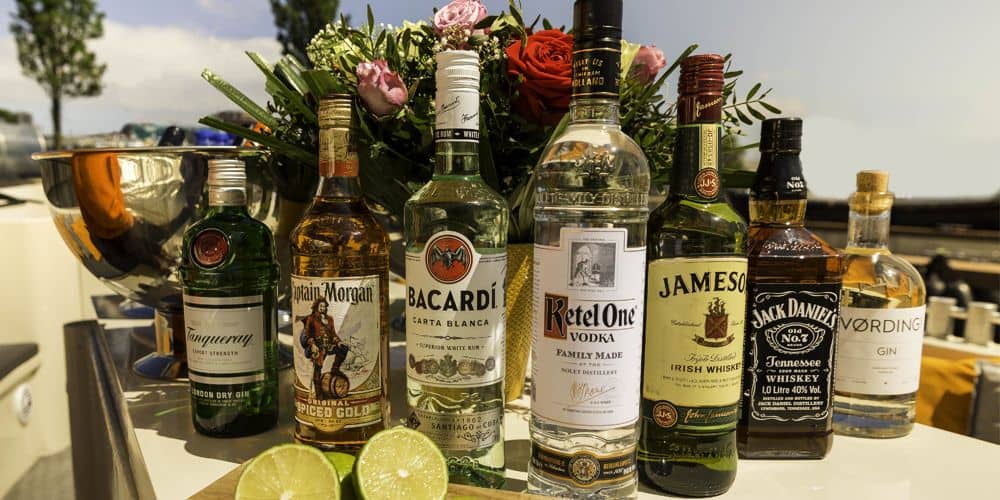 Cocktail cruise Amsterdam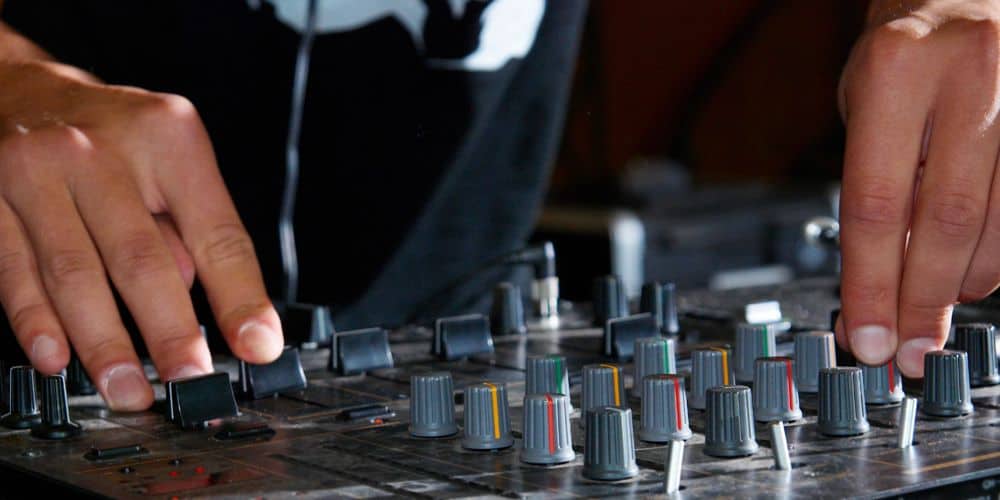 Cruising Music bar Amsterdam
Private boat with skipper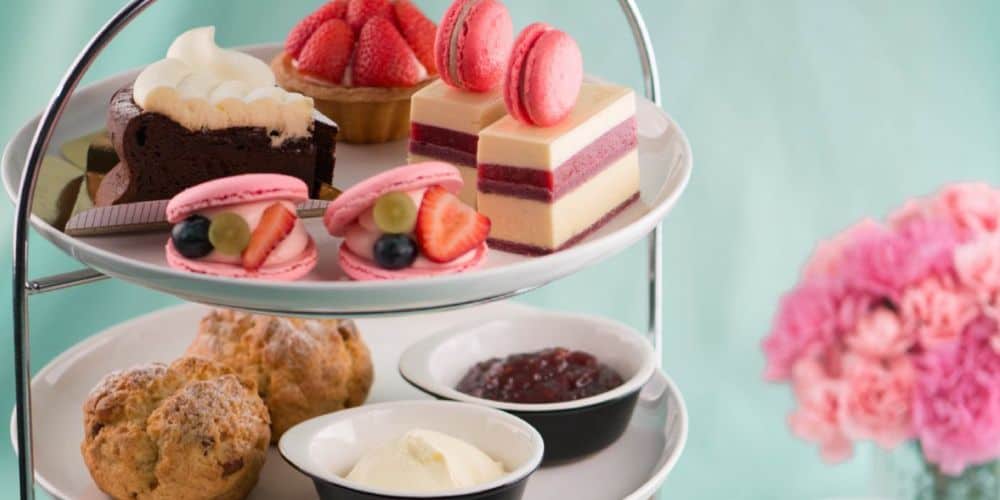 Private boat with skipper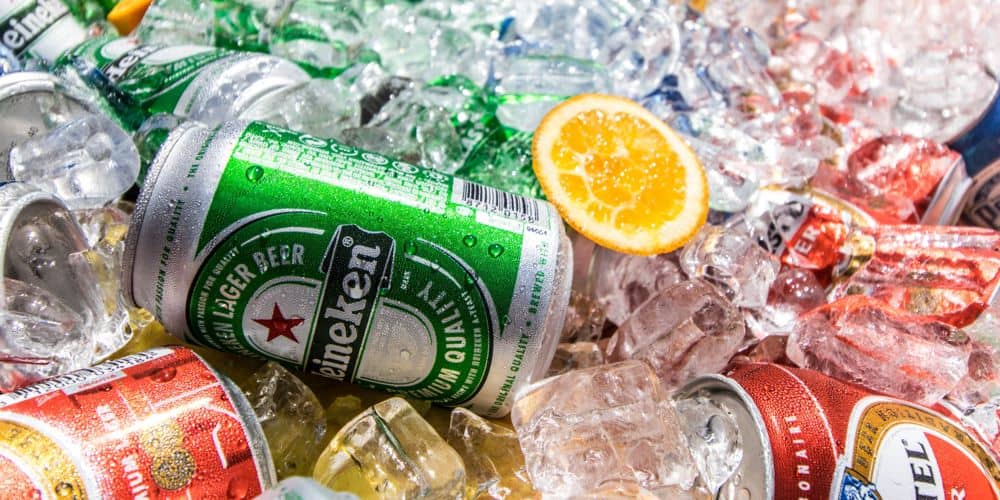 Four cans of chilled beer p.p
Private boat with skipper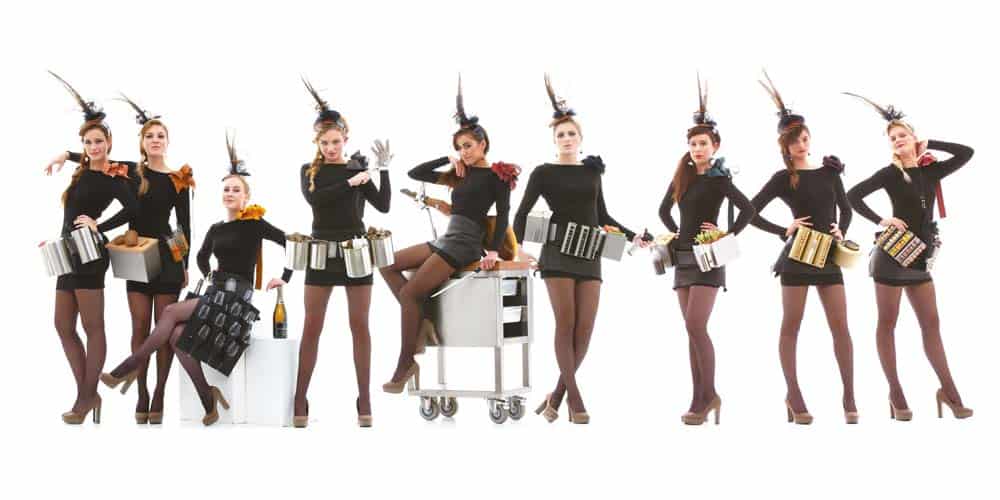 Private boat with skipper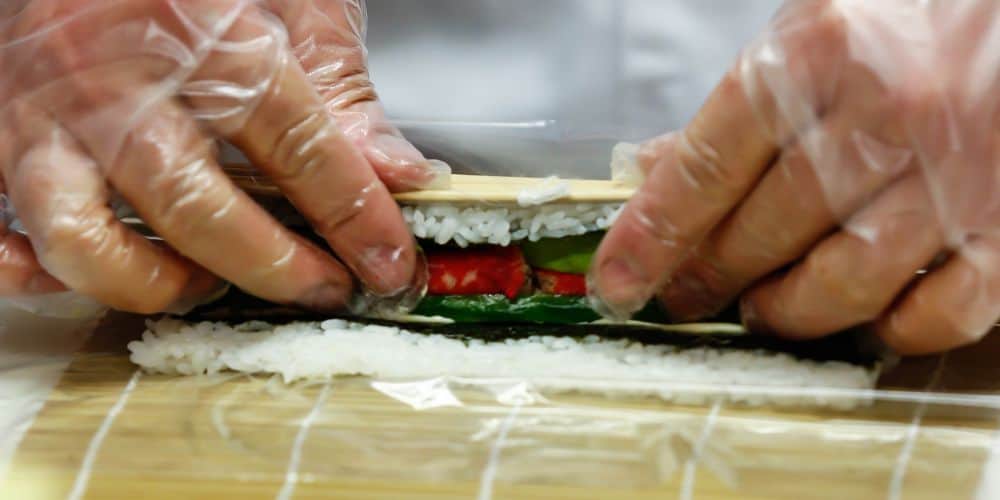 How are our outings? Hear it from someone else.
More than 50,000 satisfied locals, tourists and companies preceded you:
Tailor-made outing
Contact us without obligation for personal advice.
Saloon boats to rent Amsterdam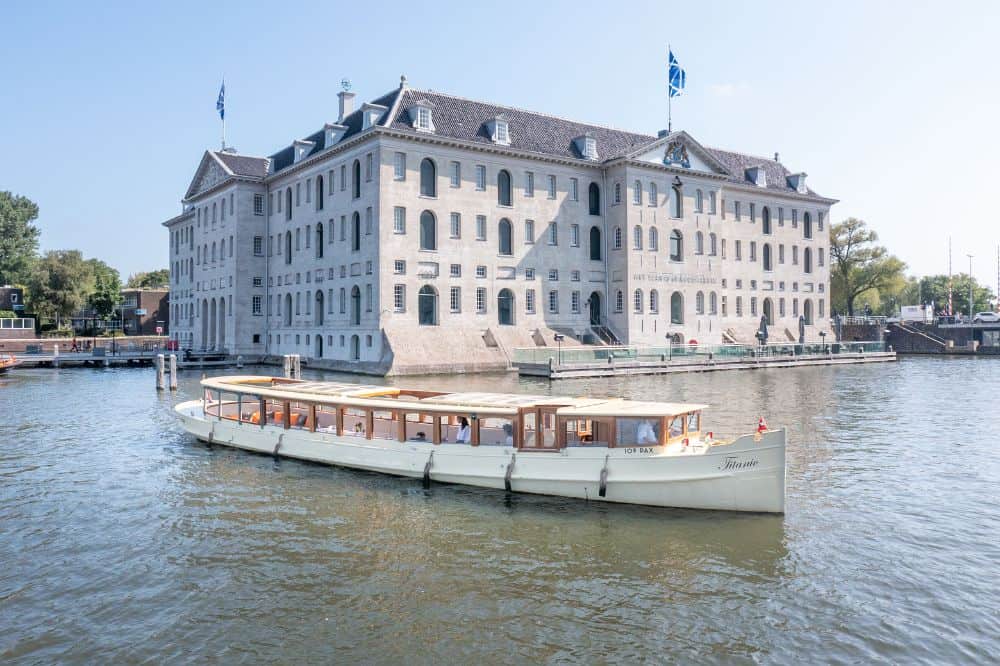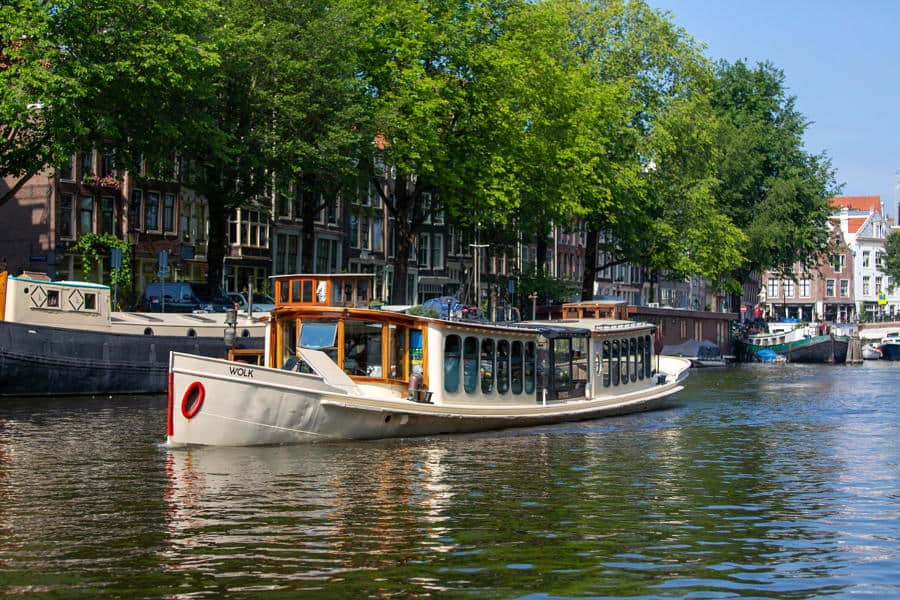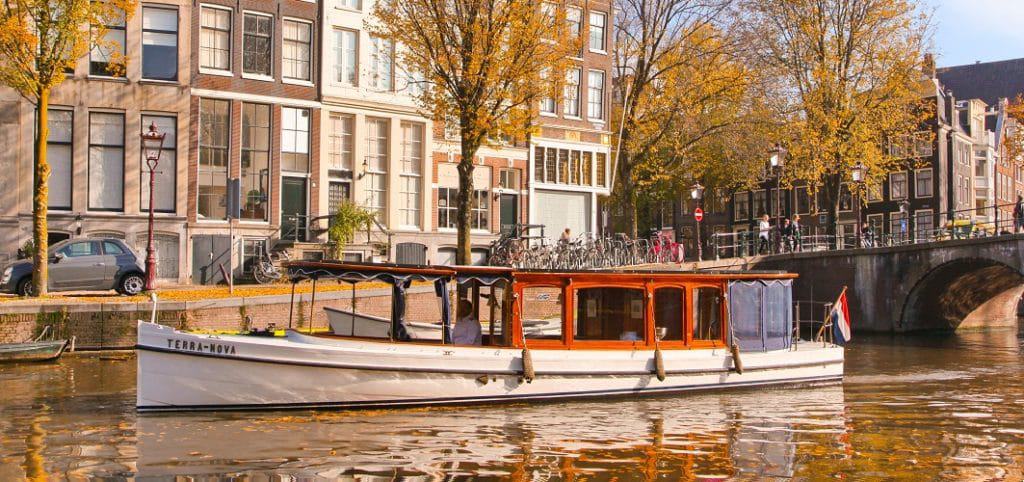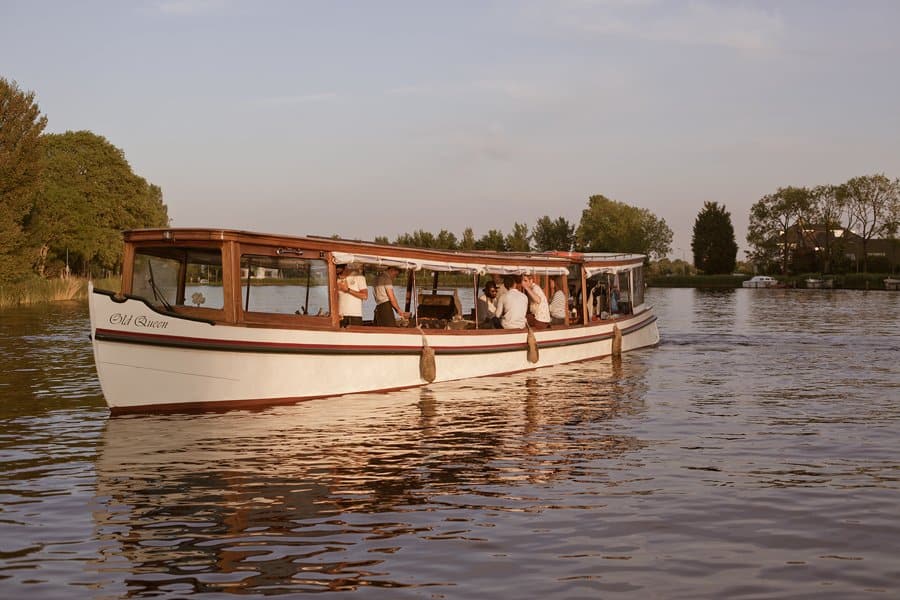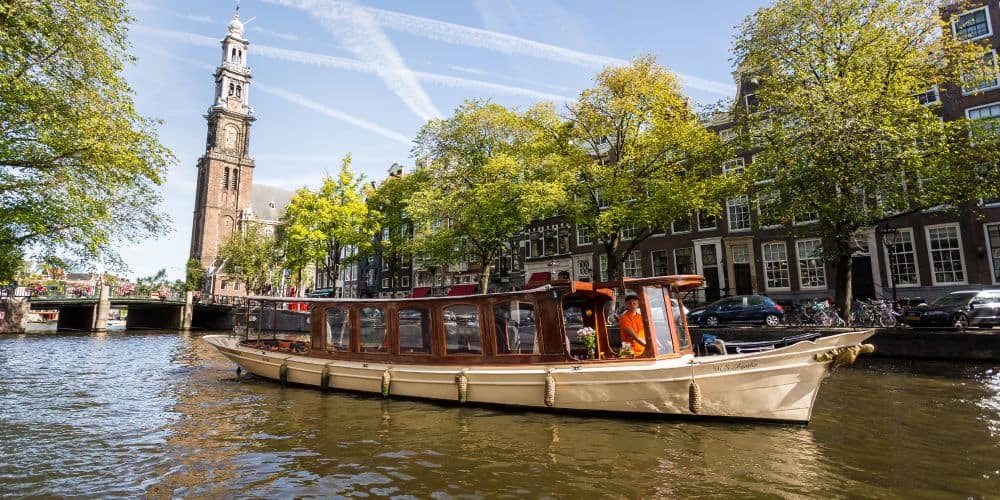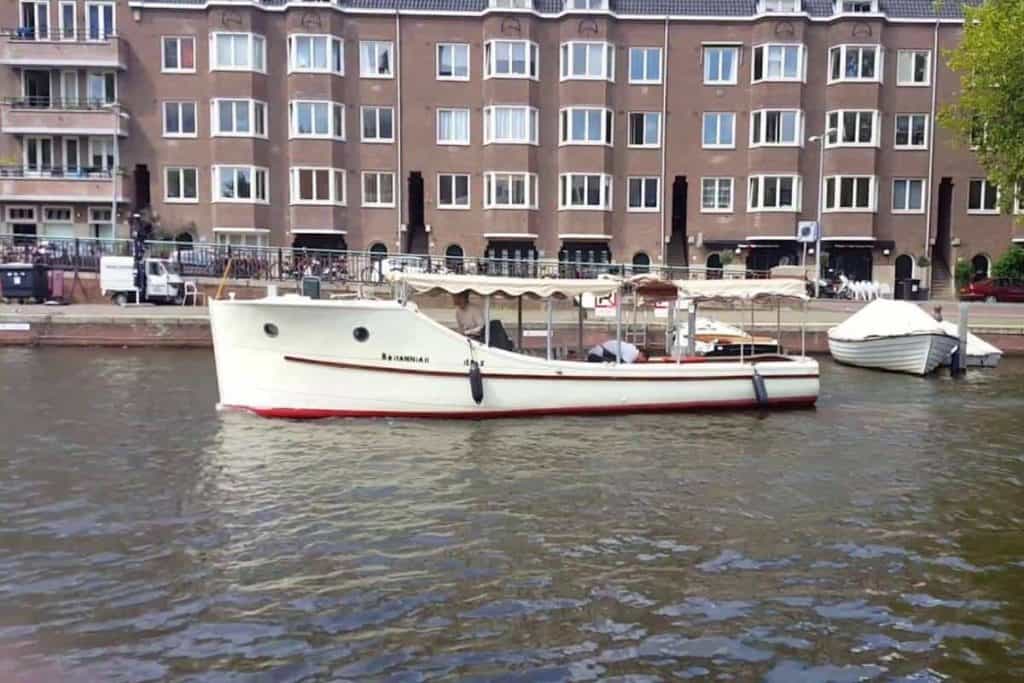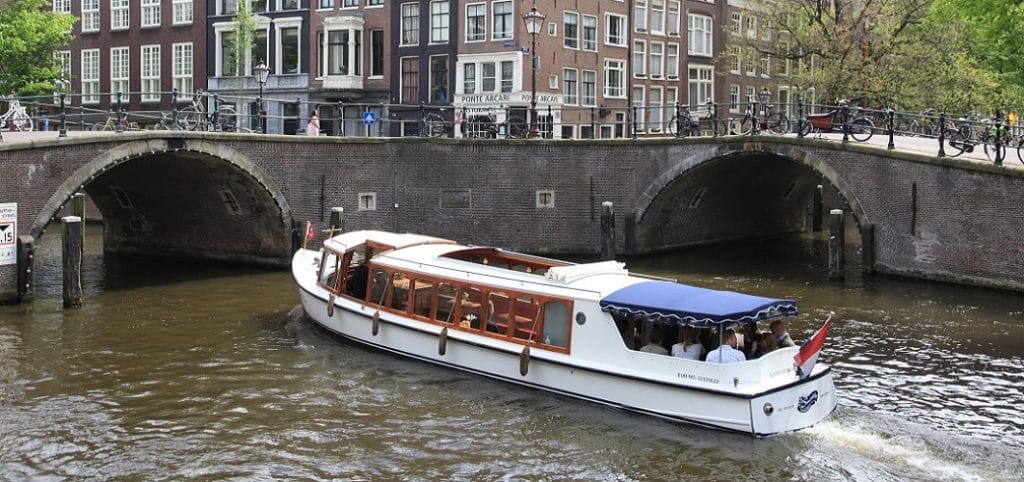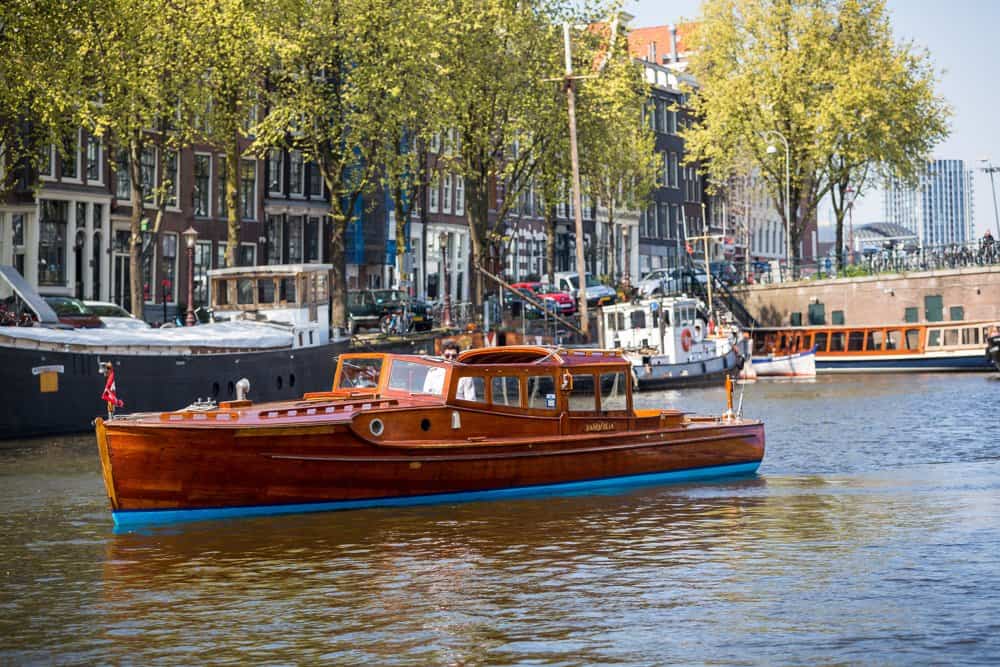 With a saloon boat you sail in style
We always make sure that the outings go completely according to your wishes and if we can believe the reviews, it works very well! A saloon boat is the most chic way of sailing in Amsterdam. This is due to the classic look and romantic atmosphere of the saloon boat.
In addition to a unique experience, we ensure that you always sail in a luxury boat that is fully equipped. A saloon boat has a roof so that you are always dry in case of rain. If you want to enjoy the sun, there is the possibility to slide open a roof and remove the windows. Some luxury saloon boats even have an outside balcony! With a full toilet on board, we ensure the ultimate comfort during your outing.
In short, a classic saloon boat is the right option for all types of outings. Combine a saloon boat with one of our arrangements and let yourself be pampered during an outing on the water.
Rent a saloon boat in all weather conditions
Experience the perfect day and discover the most beautiful places in Amsterdam on one of our luxurious saloon boats. With a toilet on board and a boat that can be sailed open and covered, there is nothing that can disturb your sailing trip.
This way you can enjoy the warm weather in the summer to the fullest, but you will also be nice and warm when you sail through the canals of Amsterdam in colder weather.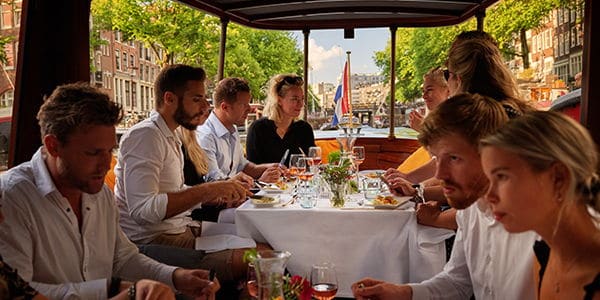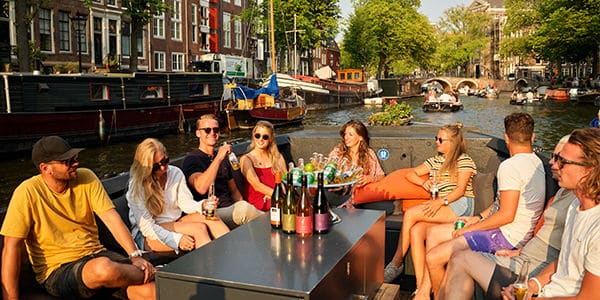 Something to celebrate?
Business dinner cruise in a chic and original setting? A family drink with standing tables, a snack and a drink, or a wonderful day sailing on the canals of Amsterdam? With the luxurious and classic look of our saloon boats you are always in the right place!
We have a lot of experience with outings for special occasions, such as company outings and bachelor parties. We are happy to take as much work off your hands as possible! We think personal contact is important. Together we will see which boat is most suitable and we will do everything we can to arrange your outing in such a way that it meets all your wishes!
Did you know that we can completely adjust our saloon boats until it best suits your occasion? For example, we can offer a classic saloon boat with luxurious tables for a dinner, but we can also offer a complete reception room with an empty floor or with standing tables.
Visit the most beautiful places in Amsterdam with your Salon boat
Our skippers know every spot in Amsterdam. So you can be sure that they will show you the most beautiful places in the city. Do you want to experience some anticipation? We have set out a number of nice routes for you.

Are you, like many others, coming to Amsterdam to admire the architecture? Then this route is just for you. During this route you will pass the most beautiful buildings that you can often only admire from the water. This way you get a completely different view of the city! In addition, the canal belt is one of the most unique and famous buildings in Amsterdam. And this is of course best admired from a boat in Amsterdam. Enjoy all 23 architectural gems this route has to offer

Who doesn't know the Amsterdam Red Light District? An absolute hotspot for tourists and local. The Red Light District is one of the oldest parts of Amsterdam and (usually) covers the area between the Zeedijk and Warmoesstraat.
This historic place consists of much more than the Red Light District. You will also find the Oude Kerk here, which is definitely worth a visit! But other historical gems can also be seen in this part of the city. That is why it probably comes as no surprise that this route is very popular for sailing through by boat.

This route goes through the greenest parts of the city. A real city safari! You can experience all the life in the city from your private boat in the city. You even have a chance to see real wildlife, because this route passes the famous artis. So watch out, you might see an elephant! In addition to the greenery of the city, you also sail past the maritime museum and the special NEMO. You don't have to be bored for a moment on this route.

H.P. Berlage was an architect who designed many buildings in Amsterdam. This route takes you through the district designed by him, he designed the urban plan.
Berlage's designs always have some influence from the American style. This is because Berlage became very impressed by Frank Lloyd Wright in 1911 during his visit to America. So much of his work is an inspiration on his work.

This route is also the tastiest route! This route takes you past all the best spots for a refreshment or tasty snack. You can also moor at these locations to enjoy these delicacies. Great to enjoy a snack by the water here. Or just let the waiter bring the food on board!
Renting a boat has never been so easy
At Bootuitjes you can book the best boat trip on a saloon boat! In combination with a package and one of our experienced skippers, you are guaranteed to experience an unforgettable day in Amsterdam.
Get in contact
LOCATION
Leliegracht 50 | 1015 DH Amsterdam
CONTACT DETAILS
0854019071
Email : info@bootuitjes.nl
OPENING HOURS BOOKINGS
Monday 09:00-18:00
Tuesday 09:00-18:00
Wednesday 09:00-18:00
Thursday 09:00-18:00
Friday 09:00-18:00
Saturday 10:00-18:00
Sunday 10:00-18:00
Frequently Asked Questions – FAQ